About
James Event Productions
Our Amazing Team
James Event Productions is a leading event production company in Southern California, providing a full range of event and party planning and production services for companies, non-profits, schools, and organizations.
The company was established in 1988 by brother/sister team Garry and Candace James who had worked together in the special events industry since their high school days. The staff of talented and creative party professionals includes 35 full-time employees and over 500 seasonal part-time employees making James Event Productions one of the largest event management companies in California.
Our experienced team of sales, management and production professionals brings the combined experience of more than 250 years of event planning to your special event.
Garry James
Founder and Co-Owner
714.563.9778 ext 106
Garry co-founded James Event Productions with his sister Candace in 1988 when they already had more than 20 years of experience in the industry. Add another 35 years to that and you get the kind of experience and leadership that has made the company a leader in Southern California event production. With an amiable personality and a "let's get it done" kind of attitude, Garry is equally comfortable guiding you through your event planning, and making it all happen on the day of your event. There's a reason that our clients and employees stay with us for so long and you need look no further than Garry's leadership.
Donna Steele
Senior Event Director
714.563.9778 ext 102
Donna has been with James Event Productions for more than 30 years. She is adept at responding quickly to changing circumstances with an upbeat, can-do attitude, while nurturing positive, productive relationships with both clients and associates. She uses her skills of problem solving, creativity, and flexibility to help clients produce events and meetings that run smoothly from concept to completion. Donna has a love for travel and enjoys experiencing new cultures. When she is not working you can find her fly fishing on the river, snow skiing, hiking, and spending time with family and friends.
Heather Schroeder
Senior Event and Creative Director
714.563.9778 ext 103
Heather creates fun and effective events for a wide array of companies, studios, nonprofits, select private entities and the regions medical groups and hospitals. She has done so for over 30 years. She brings an eye for detail and a creative approach to design aspects and problem solving alike. Her style is always tempered by the clients communication goals and direction. It was this approach that expanded the types of events we execute and earned her a loyal client base. She excels in bringing together teams of talented entertainers, artists and professionals in a fun and collaborative environment to execute some of the best gatherings in California.
Jason Thibert
Senior Event Director
714.563.9778 ext 109
Jason has worked in the event industry since his start with James Event Productions in 1995. He quickly progressed from picnic staff to rides operator, event technician, and event manager running our largest events and locations. In 2004 Jason became Operations Director including hiring, training, and staffing events. Eventually, he found his best match with our Sales Team, and began working with a diverse range of corporate clients, large-scale festivals, and non-profit events. Jason's "ground-up" knowledge of sales, planning, design, marketing, branding and operations makes him an essential part of the team. He focuses not only on his events but also companywide logistics and operations.
Christine Martinez
Senior Event and Marketing Director
714.563.9778 ext 107
A proud New Yorker, Christine began her career in professional baseball executing events and player appearances for several Major League teams. After relocating to California, she continued her 20-year passion for producing events while working in City Government, Higher Education, and the Non-Profit sector. Utilizing her eye for design and creativity, Christine has produced exclusive events for celebrities and Fortune 500 companies creating dynamic and unique experiences. She believes in staying ahead of current trends to provide the best experience for her clients and has completed education in floral design, graphic design, cake decorating and pastry school, and modern calligraphy.
Rob Hilburn
Senior Event and Entertainment Director
714.563.9778 ext 121
As Rob gets ready to celebrate his 35th year at James Productions, his event count has exceeded 4,000 with more than 1,000 events on the microphone as the voice of James Event Productions. As our Entertainment Director, he is actively seeking new talent and creating engaging and contemporary entertainment offerings. And his skills as a master of ceremonies and entertainer make him an often-requested commodity for many of our biggest clients. Rob's many years of event management have given him integral roles in planning events for the likes of Walt Disney, New Balance, DreamWorks, the March of Dimes, and hundreds more.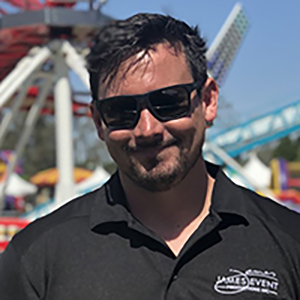 Christopher Brackett
Operations Manager
714.563.9778
As the son of Candy and Elmer Brackett (Co-Founders and Co-Owners of James Event Productions), Chris has been exposed to every aspect of event production from his earliest years. Officially an employee at 15, and now running one of our most lucrative departments, the rides division, Chris now has more than 20 years with the company. He manages more than 100 events annually for schools, churches, fundraisers, and festivals staging carnivals for their guests. He has helped change the face of the amusement ride industry to one of well-trained and qualified staff with dozens of impeccably cleaned, maintained and inspected rides and attractions.
Daniel Barrett
Operations Manager
714.563.9778
When he started at James Event Productions, no one knew what to expect from this polite high school kid from Orange County. After more than 30 years, we can't imagine what we would do without him. From an entry-level staff member making popcorn and running game booths to his current title as Operations Manager, Daniel has grown with each step into one the most well-liked and respected executives in the industry. During this time, he not only developed his skills in the event industry, but he also earned his Bachelor's degree from UC Riverside in Business Administration with an emphasis in accounting.
Eric Lessley
Controller
714.563.9778
Eric has been with James Events for 18 years. Before Joining our team, he worked for CPA firms and the US Army, touring in Iraq during Desert Storm as part of the third Armor division. He has a degree in business administration, accounting, and finance and is a Certified Public Accountant. Eric directs the accounting, financial, legal, insurance, and risk functions of James Event Productions, and he is crucial part of the management team supporting our productions. He is a member of the American Institute of Certified Public Accountants and the Boy Scouts of America, working with the Orange County Boy and Girl Scout Councils.